7 HealingBees' CDs
​1 CD $24.95 > $20 4 CDs $ 84.95 > $56
2 CDs $44.95 > $32 5 CDs $104.95 > $60
3 CDs $64.95 > $48 6 CDs $124.95 > $66
7 CDs $132.95 > $70
​Check out our new Sister CD: Mayan Melipona Bees & Doña Anselma Chalé Euán
One hour session with Valerie Solheim, PhD, DD, $135.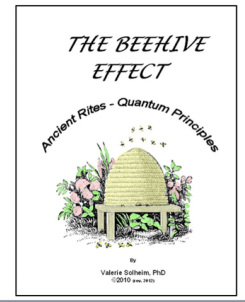 The Beehive Effect: Ancient Rites - Quantum Principles
by Valerie Solheim, PhD, DD
BOOK IS BACK IN STOCK!!
While mainstream scientists and beekeepers study the "collapse" of the bee colony by seeking pharmaceutical remedies to cure it, on a mountainside in Colorado, something else is happening. Intriguing.

Since 2009, Valerie Solheim has used Energy Transfer Tools with her hives to recreate and support the energy field effect most beneficial for healthy bee colonies. Not only has she observed vibrant hives and more abundant production, but she and others have also experienced the healing effects of the energy transmitted from the HealingBees CDs . Read about this and more . . .
The Beehive Effect: Ancient Rites - Quantum Principles

​Hey Valerie!

I wanted to express my deep gratitude and love for you and the Great Work you are conducting and exploring. I have been reading your book, and it's so amazing how you share yourself and your universe with the world. I can see the bees and feel them from your perspective, understand the process that you undergo, and watch your beautiful breakthroughs and intuitive leaps. As a scientific work, your analysis and research are amazing, and are inspiring me to begin keeping bees myself.

The CDs are INCREDIBLE, and vibration, frequency, and energy of each CD is so incredibly powerful and peaceful, and the energies are so distinct. Adam Lanka, The Align Spa

Hi Valerie,
I guess what has impressed me about the bees is the way a seemingly simple creature has such a profound impact on all of us individually and into the collective field. With all the teachers I've worked with over the years, my learning has been to simplify the message and make it easy to use and understand. This has happened again with your book and what you've connected with on such a deep level. I'm looking at creation in a totally new way, and how I can be of service in this life. I am a Gemini and find I'm an information sharer and bridge builder - but I often forget about me and how I can use this info for my own wellbeing - I get so excited with each discovery that I share far and wide, but forget that I come first….

Learning to trust my own tools is the other awakening - and if I need my physical tools now and then, great - if it makes me feel secure in the moment, fine - but remembering to access the field and divine consciousness is the real learning - I'm never alone and I can ask for help anytime……and I can hang out with the bees and raise the frequency wherever it's needed - and so simply. Vicki
---

HURRAY: ​The HealingBees USB
Complete with all 6 of the HealingBees' Songs in .wav format
HealingBees Healing Beings Spring HealingBees

Fall Harvest HealingBees Summer HealingBees

Creation ​HealingBees Mayan Melipona Bees & Doña Anselma Chalé Euán

$59.95
---
Important Information about CDs vs Downloads
In preparing any sound information (SI) for download, the SI goes through an irreversible process of analysis (lossy compression*) that determines through the use of an algorithm (data processing operation) what to remove from the detailed SI for faster handling and storage. This process arbitrarily destroys the breadth and depth of all sound downloads.

The HealingBees CDs are highly complex naturally integrated sound systems, that if violated by any intelligence, artificial, or not, the integrity of the whole is destroyed. Everything from the hive recording must be transmitted because the hive is a Unified Super Organism, harmonically informing and aligning all organisms on all levels of being: physically, mentally, spiritually, psychically, emotionally, and beyond.
​
*Data encoding methods that uses inexact approximations and partial data discarding to represent the content.

HealingBees CDs
Go to ABOUT HEALINGBEES CDs for detailed information on the CDs and how to use them.

Creation HealingBees CD CODE: 1

The Creation CD is single track at normal speed. This CD was recorded inside my top bar hive from a swarm from one of my tooled hives. The bees had to create all of the wax combs. I placed two microphones inside the hive and Kimba Arem (gaearth.com) recorded their comb creation on a Super Audio system at 2.4 million sample rate per second.

Listening to the Bee Creation CD you hear the bees crunching wax to form the cells. Using noise-reduction headphones, you hear the pure sound of vibrating energy produced from the bees' vibrating thoracic muscles. It can be used during meditation and for mind entrainment. It seems to harmonically re-pattern physical and mental disturbances. This is a hive building CD.
---
Spring HealingBees CD CODE: 2

The Spring CD has 2 tracks. This CD is recorded from Colorado JAZZED bees. The CD was recorded in early Spring before the appearance of flowering plants or the hatching of drone cells. As such, the hive was 100% female. The hive is in full preparation for Spring pollen release and nectar flow. The "girls" are cleaning and clearing out old winter cells. The queen is laying up to 3,000 eggs a day. This is a vibration of clearing, cleansing, opening.

---

Summer HealingBees CD CD CODE: 3
The Summer CD can be used during meditation and for mind entrainment. It has a re-patterning effect on the bio-field. This carries Summer frequencies and is appropriate for full blooming awareness. This is Buddha in the marketplace. The queen is laying, larva hatching, pollen and nectar transforming into bee bread and honey and the hive buzzing.

---
Fall Harvest HealingBees CD CD CODE: 4
The Fall Harvest CD sound is rich in accomplishment. It stabilizes, replenishes and brings into harmonic resonance our biofield with the living unified field. Its complex sound appears to work with the brain waves to restore them to a normal functioning pattern. When the frequencies of our body are stressed, out of tune, the Fall Harvest hive frequencies move through the deep cellular fabric of our bodies and biofield to restore the beauty of our Creation. The Fall Harvest CD is deeply grounding and calming.

---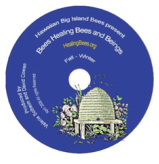 HealingBees Healing Beings CD CD CODE: 5
The HealingBees Healing Beings CD has far ranging beneficial effects on the human body. With entrainment, use over time, the bee frequencies have a focusing effect, de-stressing, restoring or maintaining energy, clearing allergies, skin problems and jet lag. It seems to allow for a better sleep, calm the nerves and muscles and generally work on restoring the physical body.

To produces this CD we reduced the Summer HealingBees CD by 33% of speed. The reduction in speed by 33% was determined through dowsing the question, "Is there another speed that would be beneficial?" This question was not consciously asked with reference to the human beeing. The resulting effects of the slower speed on our body seem miraculous.

NOTE: This is the only CD that seems to cause immediate detox effects when the frequencies encounter blocks in the body's energy field. These effects can be headaches, nausea or anxiousness. Turn off the CD and wait for 30 minutes while body adjusts to the clearing.
---

Emergency Room CD CD CODE: 6
Emergency Room is a compilation of the five HealingBees CDs. Each track is 15 minutes long. For meditation and penetrating work the longer versions of the HealingBees CDs are more appropriate. However, when one is facing trauma, surgery or a reluctant participant, then it seems to be the one of choice. A reluctant participant is a person who would be unwilling to go deeper with the other CDs or switch from one to another for restorative benefits. Better to give him/her the "Reader's Digest" version. It was also helpful to find which CD would be most effective in the moment.


BEE CD TRACKS
1. Bees Healing Beings 2. Fall Harvest 3. Creation 4. Spring 5. Summer
​

---
Mayan Melipona Bees & Doña Anselma Chalé Euán CD CODE: 7
The Melipona Bees & Doña Anselma Chalé Euán is a hive song that is totally unique. It captures the spiritually symbiotic communion between the melipona bee and the Mayan people. First we hear Doña Anselma's Mayan song to the bees asking to bless me, my work and the recording. Then we hear the bees in the hive in response. Inside the hive the bees create hexagonal tubes for the queen to lay her eggs. These tubes are built up from the floor of the hive to the ceiling in pyramid-fashion. Each layer is a step up from the layer below. The layers are circular. The honey and pollen are stored in wax pots that are located around the egg cells. This field is set into vibration by the Melipona bees. It is the song of the bees that, for over a melania, holds up the four corners of the Mayan world and the four virtues of balance: prudence, justice, fortitude and temperance.
---
Selecting CDs Using CD Codes

Click on the drop down menu below to indicate CD quantity.
THEN
Type in HealingBees CD code number.

Creation 1, Spring 2, Summer 3, Fall Harvest 4, BeesHealing Beings 5
Emergency Room 6 Mayan Melipona Bees & Doña Anselma 7

For all purchases mailed outside the US a postage fee of $25 is added.

Star Burst: Energy Transfer Tool

The Star Burst and HealingBees CDs Set are essential in the creation of a sustainable subtle energy field for the vitality and protection of honeybee hives.


Each Star Burst is handmade and can take up to a month or more for local delivery.
---